Today (31 October 2018) India's prime minister Mr. Narendra Modi inaugurates Statue of Unity on the (143th) Birthday of Sardar Vallabbhai Patel in Surat Gujarat at 11:30 Am. He was born on 31 October 1875. Sardar Patel was the first home minister and Deputy prime minister of India he was such a good leader also known as an iron man of India.
The statue of Unity is located in Gujarat state in India near Narmada Dam, away island river called sadhu. Statue of Unity is 182 meters tall and now it is the tallest statue in the world. It is 177 feet tall China's spring temple. Before tallest statue was spring temple Buddha from China. For making Statue of Unity cost around 2900 crore in Indian rupee. Approx (400$ million)
It would attract tourist from all over the world. From the report, 4million visitors will come every year for watching this such a great replica of Sardar Patel the iron man of India But you have to Pay 300 Rs hundred to see the whole beauty of this statue from India it has lift facilities. You can see the Sardar Sarovar dam from the chest of a statue. Statue of Unity will open for the Public from November 3 you can book tickets on (soutickets.in.)
The government has announced in 2010 for making this Statue and now it is completed by Gujarat Government. For making Statue of liberty there were 3000 workers and 250 engineers. Larsen & Toubro designed this statue after winning the tender.
you can see here tallest statue all around the world.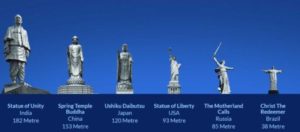 For more interesting news and updated you can follow us and keep share this knowledge with your friends and family so they will also know about the Statue of Unity and its feature.
Also, Read 
How to Increase hemoglobin level